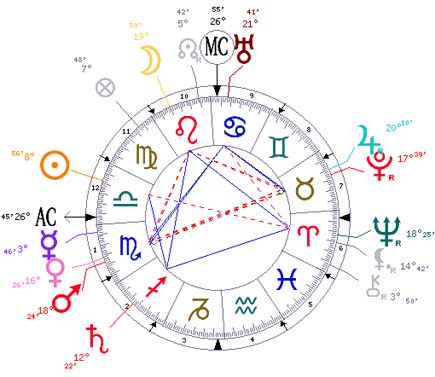 (Born: October 2, 1869, 7:12 AM, Porbandar - Inde)
ASTROLOGY FUNDAMENTALS:
• Sun in Libra
• Dominant planet: Uranus • Dominant sign: Scorpion

BIOGRAPHY OF MAHATMA GANDHI:
Thinker, statesman and nationalist leader, Mohandas Karamchand Gandhi not only led his own country to independence but also influenced political activists of many persuasions throughout the world with his methods and philosophy of nonviolent confrontation, or civil disobedience.
Born in Porbandar in Gujarat on October 2, 1869, his actions inspired the great Indian poet Rabindranath Tagore to call him "Mahatma" ("great soul&quot
. For him, the universe was regulated by a Supreme Intelligence or Principle, which he preferred to call satya (Truth) and, as a concession to convention, God.

- MAHATMA GANDHI NUMEROLOGY -

Mahatma Gandhi,
spiritual leader of India

MAHATMA GANDHI
NUMEROLOGY CHART
BIRTH DATE: October 2, 1869
Birth Path Number*:
9

FULL NAME:
Mohandas Karamchand Gandhi
Name Number*:
3

Soul Urge Number*:
3


- MAHATMA GANDHI HAND READING -
• More about the hands of Mahatma Gandhi
• More hands of fame!
• •